ZFIN ID: ZDB-FIG-051026-9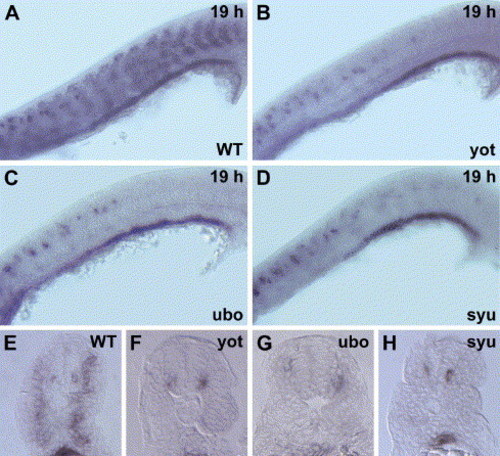 Fig. 3 Disruption of ff1a expression in slow muscle mutants. (A–D) Lateral view with anterior towards the left, (E–H) cross-sections of anal somites. (A, E) At 19 hpf, ff1a expression in the slow muscle precursor (arrows) and endoderm of the wild-type embryo (WT) is evident. The expression of ff1a is abolished in the slow muscle cells of (B, F) yot and (C, G) ubo mutants, and very faint in (D, H) syu mutant (arrow). Instead, the signals are strong in the neurons as lines of dots and in the endoderm.
Antibody Labeling Details
No data available
Phenotype Details
No data available
Acknowledgments:
ZFIN wishes to thank the journal Developmental Biology for permission to reproduce figures from this article. Please note that this material may be protected by copyright.

Reprinted from Developmental Biology, 286(2), Sheela, S.G., Lee, W.C., Lin, W.W., and Chung, B.C., Zebrafish ftz-f1a (nuclear receptor 5a2) functions in skeletal muscle organization, 377-390, Copyright (2005) with permission from Elsevier. Full text @ Dev. Biol.