ZFIN ID: ZDB-FIG-191230-1465
PHENOTYPE:
Fish:
Knockdown Reagent:
Observed In:
Stage Range:

2-cell

to

Prim-15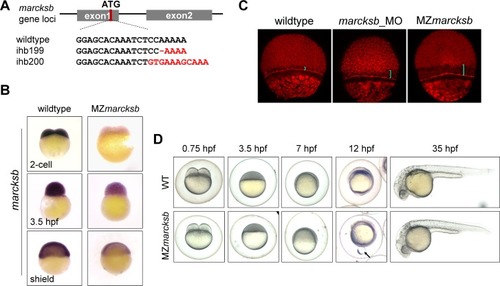 Fig 5
(A) The diagram shows the gRNA target of marcksb genome locus and the genotypes of two individual marcksb mutants generated by CRISPR/Cas9. (B) The transcription level of marcksb was significantly decreased in MZmarcksb embryos. Embryos of 2-cell stage, high stage and shield stage were present. All the embryos were lateral view with animal-pole to the top. (C) Both MZmarcksb and marcksb morphants showed similar defect of epiboly movement. The blue bar indicates the distance between the inner layer of cells and the envelope layer. (D) The wildtype and MZmarcksb embryos at developmental stages of 0.75 hpf, 3.5 hpf, 7 hpf, 12 hpf and 35hpf. MZmarcksb showed yolk bulge phenotype during early somite stage but normal appearance of development at 35 hpf. "Arrow" indicates the extrusion of the vegetal-most part of the yolk.
Antibody Labeling Details
No data available
Acknowledgments:
ZFIN wishes to thank the journal PLoS Genetics for permission to reproduce figures from this article. Please note that this material may be protected by copyright. Full text @ PLoS Genet.