ZFIN ID: ZDB-FIG-161220-2
EXPRESSION / LABELING:
Genes:
Fish:
Anatomical Terms:
Stage Range:

Prim-5

to

Day 5
PHENOTYPE:
| | |
| --- | --- |
| Fish: | |
| Observed In: | |
| Stage: | Day 5 |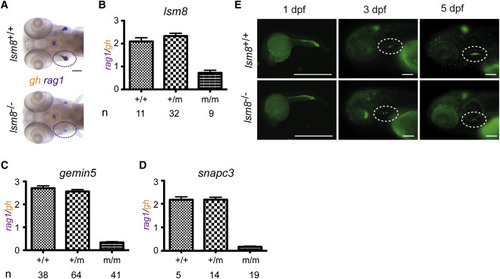 Fig. 1
Impaired Early T Cell Development in Zebrafish Mutant for Genes Encoding Components of snRNPs, Related to Figures S1–S3
(A) Diagnostic whole-mount RNA in situ hybridization pattern in lsm8 mutants using rag1 (thymus encircled in purple), and gh (hypophysis encircled in orange) at 5 dpf. Scale bar, 10 μm.
(B–D) Quantification of the rag1/gh ratios as a measure of thymopoietic activity at 5 dpf. The number (n) of individual fish per genotype is indicated; mean ± SEM.
(E) In homozygous lsm8 mutants (additionally transgenic for an ikaros:eGFP reporter), the number of ikaros-expressing cells in the thymus (encircled with dotted lines in middle and right panels) is drastically reduced at 5 dpf. Note the normal numbers of ikaros-positive cells in general hematopoietic tissues at 1 dpf. Scale bars, 100 μm.
Antibody Labeling Details
No data available
Acknowledgments:
ZFIN wishes to thank the journal Cell Reports for permission to reproduce figures from this article. Please note that this material may be protected by copyright. Full text @ Cell Rep.