ZFIN ID: ZDB-FIG-140228-41
Stainier et al., 1995
- cloche, an early acting zebrafish gene, is required by both the endothelial and hematopoietic lineages. Development (Cambridge, England) 121:3141-3150
EXPRESSION / LABELING:
| | |
| --- | --- |
| Antibody: | |
| Fish: | |
| Anatomical Terms: | |
| Stage: | Prim-25 |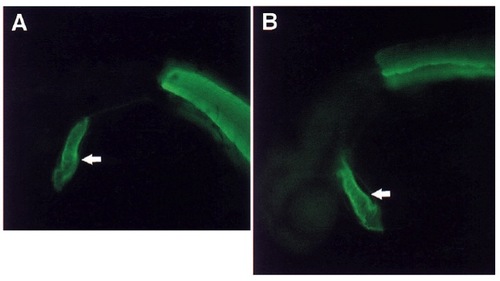 Fig. 2 The clo mutant heart expresses normal levels of myofibrillar proteins. A number of myofibrillar proteins were examined by immunohistochemistry, including different isoforms of myosin heavy chain, troponins I and T, and tropomyosin. Comparable levels of tropomyosin as observed by immunofluorescence are seen in wild-type (A), and clo mutant (B) embryos at 36 hours. Arrows point to the heart and the other staining is skeletal muscle in the trunk.
Gene Expression Details
No data available
Antibody Labeling Details
Phenotype Details
No data available
Acknowledgments:
ZFIN wishes to thank the journal Development (Cambridge, England) for permission to reproduce figures from this article. Please note that this material may be protected by copyright.