ZFIN ID: ZDB-FIG-130409-14
EXPRESSION / LABELING:
Genes:
Fish:
Knockdown Reagents:
Anatomical Terms:
Stage Range:

Prim-5

to

Day 5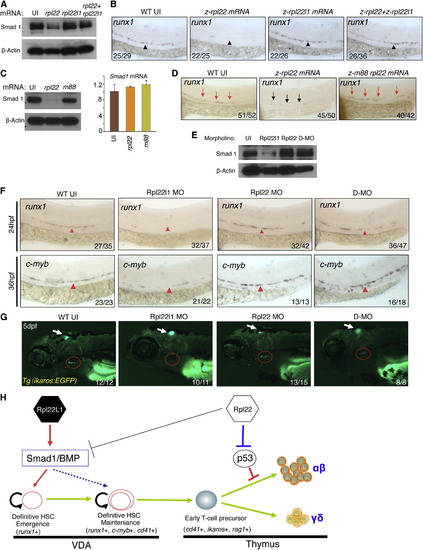 Fig. 7
Opposing Roles of Rpl22 and Rpl22l1 in Regulating Smad1 Expression and HSC Emergence (A and B) Effect of Rpl22 and Rpl22l1 overexpression on Smad1 protein levels and HSC emergence. RNA (100 pg) encoding rpl22, rpl22l1, or both were injected into embryos and the effect on Smad1 protein levels assessed by western blotting at 24 hpf (A). β-actin served as a loading control. The effect on HSC emergence in the AGM was assessed by WISH for runx1 at 24 hpf (B). (C and D) Requirement of Rpl22 RNA binding ability in regulating Smad1 expression and HSC emergence. mRNA encoding intact (75 pg) or RNA binding mutant rpl22 (m88) (75 pg) was injected into embryos and the effect on Smad1 protein levels was assessed by blotting at 24 hpf, as above. The effect on smad1 mRNA levels was determined using real-time PCR and the mean ± SD was depicted graphically (C). The effect on HSC emergence was assessed by WISH as above (D). (E–G) Rescue of developmental arrest in rpl22l1 morphants by knockdown of Rpl22. MO targeting Rpl22 (1 ng), Rpl22l1 (1 ng), or the two together (D-MO) were injected into zebrafish embryos, after which Smad1 protein expression was assessed at 24 hpf as above (E). The effect on HSC emergence was assessed by WISH at 24 hpf (runx1) and 36 hpf (c-myb) and the effect on thymus seeding was assessed at 5 dpf using the Tg(ikaros:EGFP) to mark thymic progenitors. VDA (F, red arrowheads); thymus (G, red circle). (H) Model of Rpl22 and Rpl22l1 function in hematopoiesis. Our analysis indicates that Rpl22l1 promotes Runx1 induction and HSC emergence by facilitating Smad1 expression and BMP signaling. The promotion of Smad1 expression by Rpl22l1 is antagonized by Rpl22, perhaps through direct binding of smad1 mRNA. In contrast, Rpl22 is dispensable for the emergence of HSC and consequent seeding of the thymus by progenitors; however, Rpl22 plays a critical role in supporting the development of thymic progenitors after seeding, by suppressing p53 expression in a lineage-restricted manner. Images depict phenotypes representative of at least three separate experiments, with numbers referring to the fraction of morphants with the depicted phenotypes. See also Figure S6.
Antibody Labeling Details
No data available
Phenotype Details
No data available
Acknowledgments:
This image is the copyrighted work of the attributed author or publisher, and ZFIN has permission only to display this image to its users. Additional permissions should be obtained from the applicable author or publisher of the image.

Reprinted from Developmental Cell, 24(4), Zhang, Y., Duc, A.C., Rao, S., Sun, X.L., Bilbee, A.N., Rhodes, M., Li, Q., Kappes, D.J., Rhodes, J., and Wiest, D.L., Control of hematopoietic stem cell emergence by antagonistic functions of ribosomal protein paralogs, 411-425, Copyright (2013) with permission from Elsevier. Full text @ Dev. Cell