ZFIN ID: ZDB-FIG-130228-27
PHENOTYPE:
Fish:
Knockdown Reagents:
Observed In:
Stage Range:

Long-pec

to

Day 5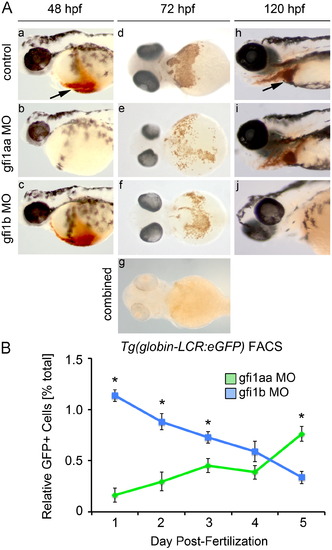 Fig. 4 gfi1aaandgfi1b have distinct roles at different stages in erythropoiesis. (A) Morphant and control embryos were stained with o-dianisidine to detect hemoglobinized cells. At 48 hpf, knockdown of gfi1aa results in severe anemia, as indicated by the absence of hemoglobinized cells in the cardiac region (arrow) (a-b). Knockdown of gfi1b does not impact hemoglobinization at this stage (c). At 72 hpf, knockdown of either gfi1aa or gfi1b partially reduces hemoglobinized erythrocytes relative to control embryos, while knockdown of both genes results in a more profound reduction of hemoglobinized erythrocytes (d–g). At 120 hpf, gfi1aa morphants have recovered from their initial anemia, as indicated by the presence of hemoglobinized cells, whereas gfi1b morphants are severely anemic (h–j). (B) FACS of Tg(globin-LCR:eGFP) embryos injected with MO targeting either gfi1aa (green) or gfi1b (blue) quantifies the relative change in erythrocytes over time, showing that loss of either gfi1aa or gfi1b differentially impacts erythropoiesis at different stages of development (mean±SE, t test, &square;p<0.05, n=3).
Gene Expression Details
No data available
Antibody Labeling Details
No data available
Acknowledgments:
ZFIN wishes to thank the journal Developmental Biology for permission to reproduce figures from this article. Please note that this material may be protected by copyright.

Reprinted from Developmental Biology, 373(2), Cooney, J.D., Hildick-Smith, G.J., Shafizadeh, E., McBride, P.F., Carroll, K.J., Anderson, H., Shaw, G.C., Tamplin, O.J., Branco, D.S., Dalton, A.J., Shah, D.I., Wong, C., Gallagher, P.G., Zon, L.I., North, T.E., and Paw, B.H., Teleost growth factor independence (gfi) genes differentially regulate successive waves of hematopoiesis, 431-441, Copyright (2013) with permission from Elsevier. Full text @ Dev. Biol.