ZFIN ID: ZDB-FIG-121026-10
Hsu et al., 2012
- Cdc42 GTPase and Rac1 GTPase act downstream of p120 catenin and require GTP exchange during gastrulation of zebrafish mesoderm. Developmental dynamics : an official publication of the American Association of Anatomists 241(10):1545-1561
Full text @ Dev. Dyn.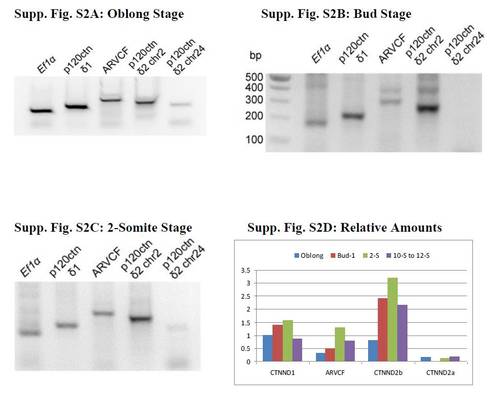 Fig. S2 Semi-quantitative PCR of cDNAs isolated from Oblong, Bud and 2-Somites stages shows an increase in p120ctn δ2 Chr2 (CTNND2b) after cleavage (oblong stage). Each PCR reaction was 20 μl and contained 2 μl of cDNA from the original isolation for quantitative PCR, 3 mM MgCl2, 10 mM each dNTP, 1 μM each primer, 1.25 U MG Quest Gem Taq, and MG Quest buffer. The reactions were run for 40 cycles (50 cycles for postbud stages) of 15 sec 95oC, 30 sec 55oC, and 30 sec 72oC. The loading control is Ef1a, translational elongation factor 1a; p120ctn δ1 is CTNND1; ARVCF is Armadillo Repeat gene deleted in Velo-Cardio-Facial syndrome; p120ctn δ2 Chr2 is delta catenin or specifically CTNND2b; p120ctn δ2 Chr24 is CTNND2a. The primers for the PCR are given in Supp. Fig. S1: Methods and dot underlined and in bold in Supp. Table S1. Figure S1D shows the change in relative mRNA levels over time relative to the Ef1a loading control determined by the rolling ball method. The amounts at all stages are not as accurate as the quantitative PCR because the amounts were taken a single time point and not the number of cycles required to reach half maximum or the inflection point.
Antibody Labeling Details
No data available
Phenotype Details
No data available
Acknowledgments:
ZFIN wishes to thank the journal Developmental dynamics : an official publication of the American Association of Anatomists for permission to reproduce figures from this article. Please note that this material may be protected by copyright. Full text @ Dev. Dyn.