ZFIN ID: ZDB-FIG-100401-9
EXPRESSION / LABELING:
| | |
| --- | --- |
| Antibody: | |
| Fish: | |
| Knockdown Reagents: | |
| Anatomical Term: | |
| Stage: | 20-25 somites |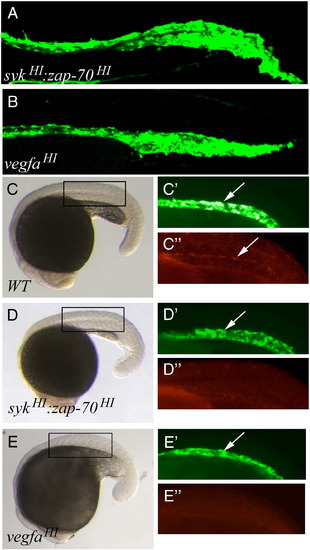 Fig. 3 sykHI:zap-70HI morphants resemble vegfa morphants and lack activated ERK. (A) sykHI:zap-70HI Tg(fli1a:EGFP)y1morphants have a complete suppression of ISV sprouting which is phenotypically similar to the ISV stalling observed in high dose vegfa morphants (B). While the artery of 20s wildtype (WT) embryos (arrow, C′) shows activated ERK (arrow, C″) comparable staged sykHI:zap-70HI morphants (D) show a strong downregulation of activated ERK (arrow D′ = artery, D″). The level of downregulation of activated ERK in the artery (arrow, E′) is similar to vegfaHI morphants (E, E″). C′, D′, E′ are enlargements of GFP signal in the boxed region of C, D, E, respectively. C″, D″, E″ are enlargements of the αERK-P immunohistochemistry in the boxed regions of C, D, and E respectively.
Gene Expression Details
No data available
Antibody Labeling Details
Acknowledgments:
ZFIN wishes to thank the journal Developmental Biology for permission to reproduce figures from this article. Please note that this material may be protected by copyright.

Reprinted from Developmental Biology, 340(1), Christie, T.L., Carter, A., Rollins, E.L., and Childs, S.J., Syk and Zap-70 function redundantly to promote angioblast migration, 22-29, Copyright (2010) with permission from Elsevier. Full text @ Dev. Biol.