ZFIN ID: ZDB-FIG-100401-11
PHENOTYPE:
| | |
| --- | --- |
| Fish: | |
| Knockdown Reagent: | |
| Observed In: | |
| Stage: | Prim-15 |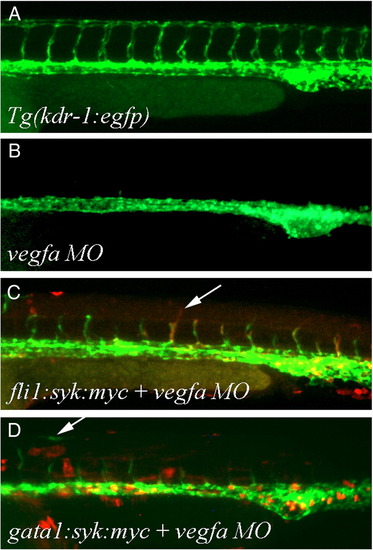 Fig. 5 Endothelial and vascular expression of syk rescues angioblasts migration in vegfa morphants. (A–B) Compared to 30 hpf wildtype Tg(fli1:egfp)y1 embryos with complete ISVs (A), vegfa morphants lack any ISV sprouting (B). (C–D) Expression of a C-terminal tagged syk under the control of a vascular fli1 promoter (fli1:syk:myc, C) or a blood gata1 promoter (gata1:syk:myc, D) in single celled embryos injected with 4 ng of vegfa morpholino results in increased number of ISV sprouting (white arrow). Expression of the fli1:syk:myc construct is detected by immunohistochemistry against the myc tag (red, C, D). The large myc-expressing cells visible in the dorsal and mid-trunk of gata:syk injected embryos are superficial and do not represent expression of the transgene in blood vessels, while ventral myc expression cells are within the axial vessels.
Gene Expression Details
No data available
Antibody Labeling Details
No data available
Acknowledgments:
ZFIN wishes to thank the journal Developmental Biology for permission to reproduce figures from this article. Please note that this material may be protected by copyright.

Reprinted from Developmental Biology, 340(1), Christie, T.L., Carter, A., Rollins, E.L., and Childs, S.J., Syk and Zap-70 function redundantly to promote angioblast migration, 22-29, Copyright (2010) with permission from Elsevier. Full text @ Dev. Biol.