ZFIN ID: ZDB-FIG-090109-18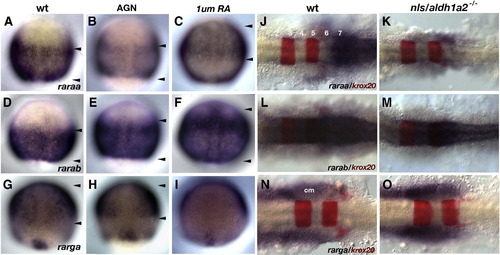 Fig. 7 rars are differentially regulated by RA. (A–I) Whole mount in situ hybridization for three of the four rars during gastrulation (8.5 hpf). Dorsal views, anterior to the top, of wild-types (A, D, G), AGN-treated (B, E, H), and RA-treated (C, F, I) embryos. Arrowheads indicate approximate borders of receptor expression along the anterior–posterior axis. (A–C) Only raraa expression is reduced by AGN treatment (B) and induced by RA (C). (D–F) AGN has no effect on rarab expression (E) though expression is upregulated anteriorly by RA (F). (G–I) AGN treatments also have little effect on rarga expression (H), but surprisingly RA treatments downregulate expression (I). (J–O) Expression of rars in the hindbrain at 18 hpf. Dorsal views, anterior to the left, of flat-mounted hindbrains showing rar expression (blue) and krox20 in r3 and r5 (red). Similar to the gastrula studies, only raraa expression is reduced in aldh1a2 mutants (K) while other receptors appear unaffected (M, O). Abbreviations: cm, cranial mesoderm.
Antibody Labeling Details
No data available
Phenotype Details
No data available
Acknowledgments:
ZFIN wishes to thank the journal Developmental Biology for permission to reproduce figures from this article. Please note that this material may be protected by copyright.

Reprinted from Developmental Biology, 325(1), Linville, A., Radtke, K., Waxman, J.S., Yelon, D., and Schilling, T.F., Combinatorial roles for zebrafish retinoic acid receptors in the hindbrain, limbs and pharyngeal arches, 60-70, Copyright (2009) with permission from Elsevier. Full text @ Dev. Biol.