ZFIN ID: ZDB-FIG-081028-15
Ahn et al., 2008
- Tri-phasic expression of posterior Hox genes during development of pectoral fins in zebrafish: Implications for the evolution of vertebrate paired appendages. Developmental Biology 322(1):220-233
Full text @ Dev. Biol.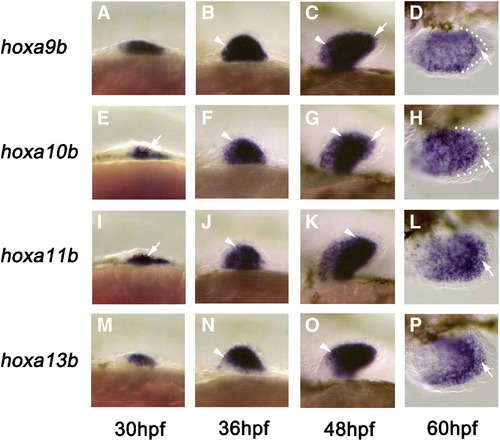 Fig. 5 Late expression of hoxab cluster genes during zebrafish pectoral fin development. Similar to hoxda genes, expression of hoxab genes occurs in three distinct phases during pectoral fin bud development. Phase I, which gradually occurs during early stages of fin bud morphogenesis, is characterized by a uniform expression of hoxa9b within the early fin bud mesenchyme (A). Phase II expression begins with the onset of hoxa10/11/13b expression within the distal posterior fin bud mesenchyme just underneath the surface ectoderm (E, I, M), which establishes nested domains of expression for hoxa9–11b genes during later stages (B, F, J, C, G, K). Note that, for hoxa13b (N, O), colinearity is not observed, even though its expression is otherwise similar to the phase II expressions of hoxa10b/a11b during the same period. Phase III, which is limited to the distal fin bud mesenchyme cells, occurs last and is characterized by the expression of hoxa11b and hoxa13b genes within distal cells (L, P: arrows). During phase III, little expression is seen for hoxa9b and hoxa10b genes in the same region (D, H: arrows). Lateral (A–C, E–G, I–K, M–O) or dorsal (D, H, L, P) views with anterior to the left. Only left pectoral fin buds are shown. Arrowheads in panels B, C, F, G, J, K, N, and O show the anterior limits of expression within the chondrogenic mesenchyme cells which at these stages are flanked on both sides by myogenic cells which tend to show weaker expression. Small dots in panels D and H represent the outermost extent of the distal mesenchyme cells. hpf: hours post fertilization.
Antibody Labeling Details
No data available
Phenotype Details
No data available
Acknowledgments:
ZFIN wishes to thank the journal Developmental Biology for permission to reproduce figures from this article. Please note that this material may be protected by copyright.

Reprinted from Developmental Biology, 322(1), Ahn, D., and Ho, R.K., Tri-phasic expression of posterior Hox genes during development of pectoral fins in zebrafish: Implications for the evolution of vertebrate paired appendages, 220-233, Copyright (2008) with permission from Elsevier. Full text @ Dev. Biol.