ZFIN ID: ZDB-FIG-080325-124
PHENOTYPE:
| | |
| --- | --- |
| Fish: | |
| Knockdown Reagent: | |
| Observed In: | |
| Stage: | Day 4 |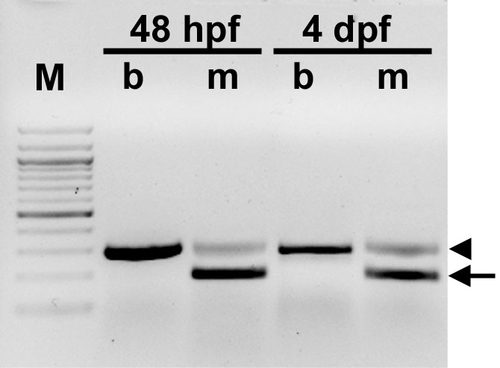 Fig. S1 RT-PCR analysis of wt1MO embryos. RNA from buffer (b) injected and (m) wt1MO injected embryos was used as a template in a RT-PCR designed to amplify a portion of the wt1 messenger RNA at 48 hpf or 4 dpf. Most of the mRNA amplified in the morpholino injected embryos is aberrantly spliced yielding a smaller PCR product (arrow) than in wild type (arrowhead). M: 100 base pair ladder. Some wild type message is still present in the morpholino-injected embryos.
Gene Expression Details
No data available
Antibody Labeling Details
No data available
Acknowledgments:
ZFIN wishes to thank the journal Developmental Biology for permission to reproduce figures from this article. Please note that this material may be protected by copyright.

Reprinted from Developmental Biology, 315(1), Serluca, F.C., Development of the proepicardial organ in the zebrafish, 18-27, Copyright (2008) with permission from Elsevier. Full text @ Dev. Biol.