ZFIN ID: ZDB-FIG-041108-7
Hans et al., 2004
- Pax8 and Pax2a function synergistically in otic specification, downstream of the Foxi1 and Dlx3b transcription factors. Development (Cambridge, England) 131(20):5091-5102
Full text @ Development
EXPRESSION / LABELING:
| | |
| --- | --- |
| Genes: | |
| Fish: | |
| Knockdown Reagent: | |
| Anatomical Term: | |
| Stage: | 26+ somites |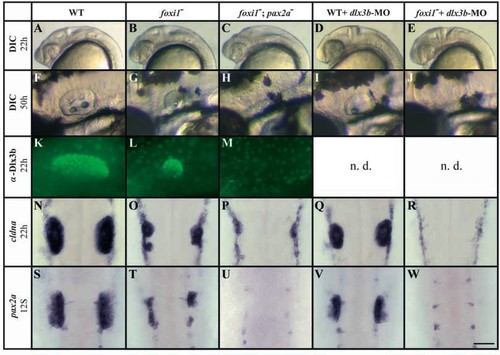 Fig. 7 Foxi1 and Dlx3b mediate convergent pathways of otic development. In foxi1- mutants, otic tissue is reduced (B,G,L,O,T) compared with wild-type embryos (A,F,K,N,S) assessed both by morphology (A,B,F,G) and markers, including Dlx3b (K,L), cldna (N,O) and pax2a (S,T). foxi1-;pax2a– double mutants show no morphological sign of an otic vesicle (C,H) and no expression of Dlx3b (M) or pax2a (U), although some residual 'otic' cells can be detected with cldna (P). Injection of dlx3b-MO into wild-type embryos leads to reduction of overall ear size (D,I) that is preceded by reduced expression of cldna (Q) and pax2a (V). In foxi1- mutant embryos depleted of Dlx3b, all otic specification is absent as indicated by morphology (E,J) and transcription of cldna (R) and pax2a (W). (A-M) Side views, anterior towards the left, dorsal towards the top; (N-W) dorsal views, anterior towards the top. Scale bar: 200 μm for A-E; 75 μm for F-J; 60 μm for K-M; 100 μm for N-W. n.d., not done.
Antibody Labeling Details
No data available
Phenotype Details
No data available
Acknowledgments:
ZFIN wishes to thank the journal Development (Cambridge, England) for permission to reproduce figures from this article. Please note that this material may be protected by copyright. Full text @ Development