ZFIN ID: ZDB-FIG-200722-9
EXPRESSION / LABELING:
Gene:
Antibodies:
Fish:
Anatomical Terms:
Stage Range:

Day 5

to

Adult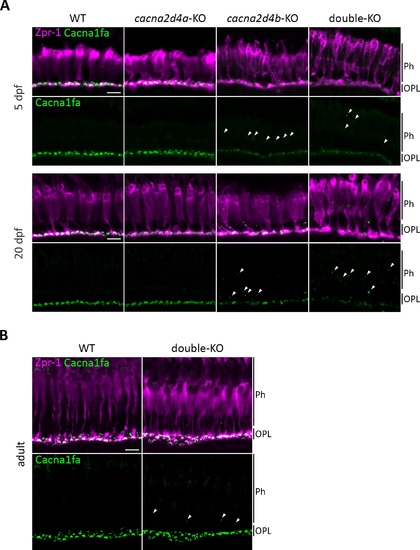 Fig. 2 Cacna1fa localization cacna2d4-KO lines. (A) Immunohistochemical analysis of Cacna1fa with Zpr-1 counterstain (red-green double cones). Cacna1fa expression is not affected in cacna2d4a-KO larvae at 5 and 20 dpf, but severely reduced in cacna2d4b-KO as well as in double-KO. In the latter two, ectopic punctate Cacna1fa staining is observed distal to the OPL (arrowheads). (B) Expression in adult double-KO is comparable to WT levels, yet ectopic puncta are visible (arrowheads). Scale bars (A, B) correspond to 10 μm and apply to all images of the respective developmental stage.
Antibody Labeling Details
Acknowledgments:
ZFIN wishes to thank the journal Investigative ophthalmology & visual science for permission to reproduce figures from this article. Please note that this material may be protected by copyright. Full text @ Invest. Ophthalmol. Vis. Sci.