ZFIN ID: ZDB-FIG-200521-13
PHENOTYPE:
| | |
| --- | --- |
| Fish: | |
| Observed In: | |
| Stage: | Adult |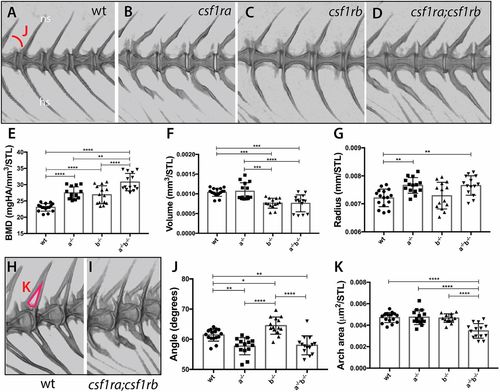 Fig. 3 Loss of csf1r paralogue function leads to unique and shared phenotypes in the skeleton.
MicroCT imaging and quantification of skeletal metrics of the spine of age-matched csf1r mutants and wild-type adult siblings. (A-D) MicroCT renderings of the lateral aspect of the spine showing overall morphology and integration of serial vertebrae. The neural spines (ns) and hemal spines (hs) are indicated. The measure used for the quantification of angle of the arch (J) is noted in A. (E-G,J,K) Quantification of vertebral shape and density in csf1r single and double mutants: (E) bone mineral density (BMD), (F) bone volume, (G) vertebral radius, (J) angle and (K) area of the neural arch. All measurements, with the exception of angle, were standardized to standard length (STL). (H,I) visualization of neural arch area in wild-type (H) and csf1ra; csf1rb mutant (I) zebrafish; measured area used for quantification of the arch area (K) is indicated in red in H. Data are mean±s.d. *P<0.05, **P<0.01, ***P<0.001, ****P<0.0001.
Gene Expression Details
No data available
Antibody Labeling Details
No data available
Phenotype Details
| Fish | Conditions | Stage | Phenotype |
| --- | --- | --- | --- |
| csf1ramh5/mh5 | standard conditions | Adult | centrum increased diameter, abnormal |
| | | Adult | centrum increased mass density, abnormal |
| | | Adult | centrum normal volume, normal |
| | | Adult | centrum bone mineralization increased process quality, abnormal |
| | | Adult | neural arch dorsal orientation, abnormal |
| | | Adult | neural arch normal area, normal |
| csf1ramh5/mh5 ; csf1rbmh112/mh112 | standard conditions | Adult | centrum decreased volume, abnormal |
| | | Adult | centrum increased diameter, abnormal |
| | | Adult | centrum increased mass density, exacerbated |
| | | Adult | centrum bone mineralization increased process quality, exacerbated |
| | | Adult | neural arch decreased area, abnormal |
| | | Adult | neural arch dorsal orientation, abnormal |
| csf1rbmh108/mh108 | standard conditions | Adult | centrum decreased volume, abnormal |
| | | Adult | centrum increased mass density, abnormal |
| | | Adult | centrum normal diameter, normal |
| | | Adult | centrum bone mineralization increased process quality, abnormal |
| | | Adult | neural arch dorsal orientation, abnormal |
| | | Adult | neural arch normal area, normal |
Acknowledgments:
ZFIN wishes to thank the journal Development (Cambridge, England) for permission to reproduce figures from this article. Please note that this material may be protected by copyright. Full text @ Development