ZFIN ID: ZDB-FIG-200413-52
Chestnut et al., 2019
- Zebrafish etv2 knock-in line labels vascular endothelial and blood progenitor cells. Developmental dynamics : an official publication of the American Association of Anatomists 249(2):245-261
Full text @ Dev. Dyn.
EXPRESSION / LABELING:
| | |
| --- | --- |
| Genes: | |
| Fish: | |
| Anatomical Terms: | |
| Stage: | Prim-5 |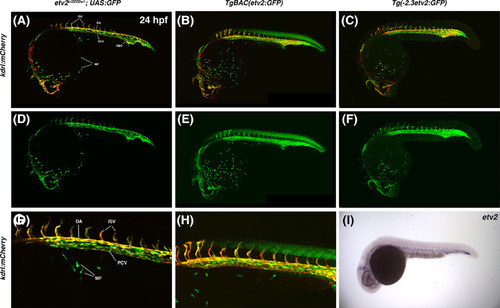 Fig. 4 A comparison of etv2 ci32Gt+/−; UAS:GFP, TgBAC(etv2:GFP), Tg(−2.3etv2:GFP) fluorescence pattern (in kdrl:mCherry background, top row) and etv2 mRNA expression analyzed by in situ hybridization (ISH) at 24 hpf. etv2 ci32Gt+/−; UAS:GFP expression is apparent throughout the entire vasculature, red blood cells (RBC), and macrophages (MF). TgBAC(etv2:GFP) shows similar expression pattern, and also shows nonspecific expression in the neural tube. A‐C, Merged mCherry and GFP channels; D‐F, GFP channel; G,H, magnified images of the trunk region in, A and B. I, ISH analysis for etv2 mRNA expression at 24 hpf. DA, dorsal aorta; PCV, posterior cardinal vein; ISV, intersegmental vessels
Antibody Labeling Details
No data available
Phenotype Details
No data available
Acknowledgments:
ZFIN wishes to thank the journal Developmental dynamics : an official publication of the American Association of Anatomists for permission to reproduce figures from this article. Please note that this material may be protected by copyright. Full text @ Dev. Dyn.