ZFIN ID: ZDB-FIG-200208-2
EXPRESSION / LABELING:
Genes:
Fish:
Anatomical Terms:
Stage Range:

Prim-5

to

Day 5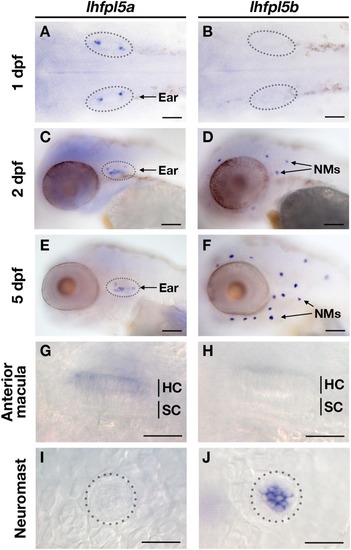 FIGURE 2
Zebrafish lhfpl5a and lhfpl5b genes are expressed in distinct populations of sensory hair cells. Whole mount mRNA in situ hybridization for lhfpl5a(A,C,E,G,I) and lhfpl5b(B,D,F,H,J) at 1, 2, and 5 days post-fertilization (dpf). (G–J) Are details from 5 dpf larvae. NMs, neuromasts; HC, hair cell; SC, support cell. Scale bars: (A,B) = 50 μm; (C–F) = 100 μm; (G–J) = 25 μm.
Antibody Labeling Details
No data available
Phenotype Details
No data available
Acknowledgments:
ZFIN wishes to thank the journal Frontiers in molecular neuroscience for permission to reproduce figures from this article. Please note that this material may be protected by copyright. Full text @ Front. Mol. Neurosci.