ZFIN ID: ZDB-FIG-181024-15
PHENOTYPE:
| | |
| --- | --- |
| Fish: | |
| Observed In: | |
| Stage: | Day 6 |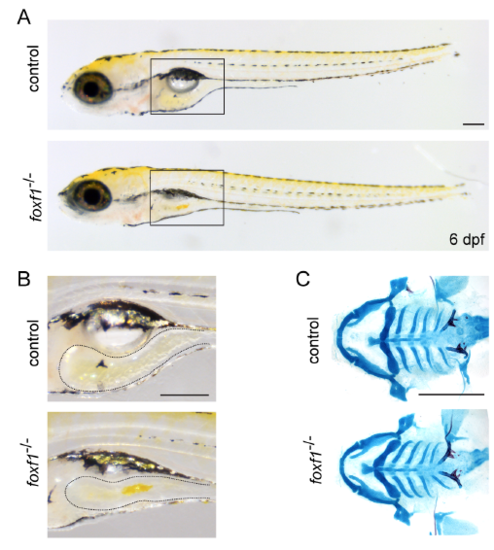 Fig. S5
Phenotype of foxf1 single mutants
(A) Brightfield images show morphology of control and foxf1 single mutants in lateral view at 6 dpf. Swim bladders do not properly inflate in all foxf1 mutants.
(B) Enlarged images of the boxed regions show reduced intestine (dotted areas) in foxf1 mutants compared to controls.
(C) Ventral views of dissected facial skeletons stained by Alcian Blue (cartilage) and Alizarin Red (bones and teeth). No defects are observeded in foxf1 mutants. Scale bars = 100 μm.
Gene Expression Details
No data available
Antibody Labeling Details
No data available
Acknowledgments:
ZFIN wishes to thank the journal Development (Cambridge, England) for permission to reproduce figures from this article. Please note that this material may be protected by copyright. Full text @ Development