ZFIN ID: ZDB-FIG-180202-21
PHENOTYPE:
| | |
| --- | --- |
| Fish: | |
| Condition: | |
| Observed In: | |
| Stage: | Adult |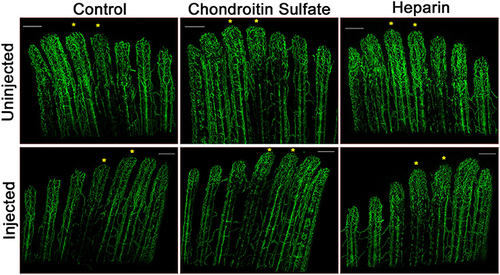 Fig. 6
Heparin decreases vascular regeneration. Representative confocal microscopy images of 4 dpa Tg(Fli1:EGFP) fins. Fin rays 3 and 4 of one side of a fin (noted with asterisks) were injected at 3 dpa with either with phenol red (Control), chondroitin sulfate, or heparin, and the other side was left uninjected. A slight decrease in vascular outgrowth and a delay in central artery and vein regeneration are observed in fin rays injected with heparin. Images are representative of three independent experiments with at least three fish per experimental group. Scale bars = 200 μm.
Gene Expression Details
No data available
Antibody Labeling Details
No data available
Acknowledgments:
ZFIN wishes to thank the journal Frontiers in Physiology for permission to reproduce figures from this article. Please note that this material may be protected by copyright. Full text @ Front. Physiol.