ZFIN ID: ZDB-FIG-171229-6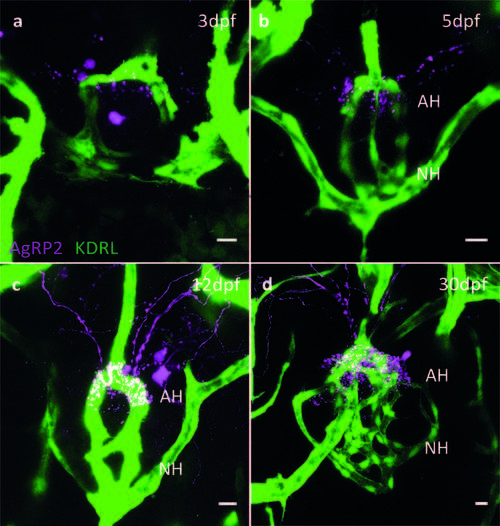 Fig. S2
Development of AgRP2 projections (magenta) towards the pituitary vasculature (green).
(a) AgRP2 preoptic neuronal projection towards the pituitary vasculature is detected as early as 3 dpf. (b) At 5 dpf, as the pituitary vasculature continues to develop; more AgRP2 projections can be detected. (c) At 12 dpf, a clear interface can be detected between AgRP2 and the pituitary vasculature. (d) At 30 dpf, complexity of the pituitary vasculature increases together with increased number of AgRP2 terminals.
Antibody Labeling Details
No data available
Phenotype Details
No data available
Acknowledgments:
ZFIN wishes to thank the journal Scientific Reports for permission to reproduce figures from this article. Please note that this material may be protected by copyright. Full text @ Sci. Rep.