ZFIN ID: ZDB-FIG-171127-8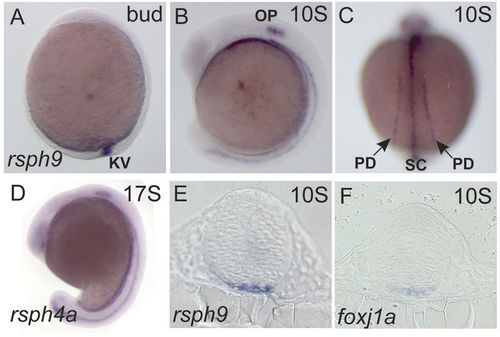 Fig. 1
Rsph9 and Rsph4a are expressed in the motile ciliogenic embryonic domains.
Wild-type embryos were stained by ISH to identify cells that express rsph9 (A–C,E), rsph4a (D) and foxj1a (F). (A,B,D) are whole mount embryos in lateral view, anterior to the left. (C) Is a dorsal view. (E,F) are transverse sections at the level of midbrain. KV: Kupffer's vesicle; OP: otic placode; PD: pronephric duct; SC: ventral spinal cord.
Antibody Labeling Details
No data available
Phenotype Details
No data available
Acknowledgments:
ZFIN wishes to thank the journal Scientific Reports for permission to reproduce figures from this article. Please note that this material may be protected by copyright. Full text @ Sci. Rep.