ZFIN ID: ZDB-FIG-170606-30
EXPRESSION / LABELING:
| | |
| --- | --- |
| Gene: | |
| Antibody: | |
| Fish: | |
| Knockdown Reagents: | |
| Anatomical Terms: | |
| Stage: | 14-19 somites |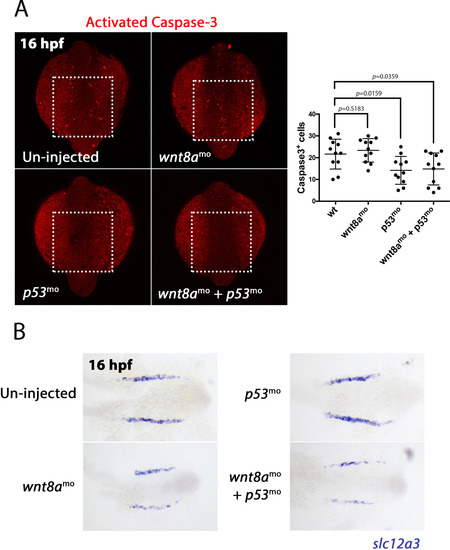 Fig. 4
Effect of wnt8a knockdown on apoptosis. A) Left panels show dorsal views of the posterior region of 16 hpf embryos stained for activated Caspase3 and treated as indicated. Dashed line box indicates the region used to count the number of Caspase3+ cells. Scatter-graph on the right illustrates the counts for Caspase3+ cells. B) Panels show dorsal views of the posterior region of flat mounted embryos stained for slc12a3 transcripts at 16 hpf and treated as indicated.
Antibody Labeling Details
Acknowledgments:
This image is the copyrighted work of the attributed author or publisher, and ZFIN has permission only to display this image to its users. Additional permissions should be obtained from the applicable author or publisher of the image.

Reprinted from Developmental Biology, 425(2), Naylor, R.W., Han, H.I., Hukriede, N.A., Davidson, A.J., Wnt8a expands the pool of embryonic kidney progenitors in zebrafish, 130-141, Copyright (2017) with permission from Elsevier. Full text @ Dev. Biol.