ZFIN ID: ZDB-FIG-170606-28
PHENOTYPE:
| | |
| --- | --- |
| Fish: | |
| Knockdown Reagents: | |
| Observed In: | |
| Stage: | Prim-5 |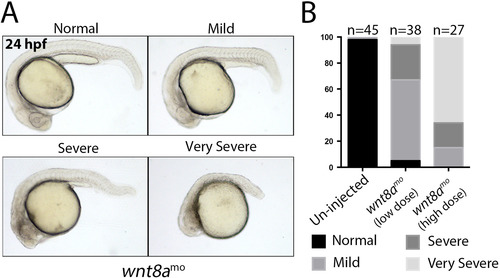 Fig. 2
Morphological defects in wnt8a morphants. A) Panels show lateral views of live wnt8a morphants displaying the classes of phenotype severity. B) Histogram showing the proportion of phenotype classes observed in un-injected and wnt8a morphants injected with a low dose (2 ng/embryo) and a high dose (15 ng/embryo) of morpholino.
Gene Expression Details
No data available
Antibody Labeling Details
No data available
Acknowledgments:
This image is the copyrighted work of the attributed author or publisher, and ZFIN has permission only to display this image to its users. Additional permissions should be obtained from the applicable author or publisher of the image.

Reprinted from Developmental Biology, 425(2), Naylor, R.W., Han, H.I., Hukriede, N.A., Davidson, A.J., Wnt8a expands the pool of embryonic kidney progenitors in zebrafish, 130-141, Copyright (2017) with permission from Elsevier. Full text @ Dev. Biol.