ZFIN ID: ZDB-FIG-151008-29
EXPRESSION / LABELING:
| | |
| --- | --- |
| Genes: | |
| Antibodies: | |
| Fish: | |
| Anatomical Terms: | |
| Stage: | Adult |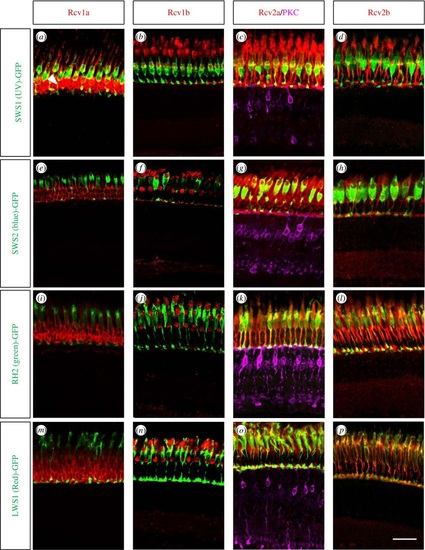 Fig. 2
Zebrafish Recoverins are expressed in the different cone subtypes. Adult retinal sections from transgenic zebrafish highlighting the different cone subtypes were co-stained with Rcv antibodies. White arrowhead in (a) marked the rod photoreceptors. While Rcv1b, Rcv2a and Rcv2b proteins are present in all cone subtypes, Rcv1a is only expressed in rods and UV cones. In order to highlight also ON-bipolar cells, Rcv2a antibodies were supplemented with PKC antibodies (violet staining). Scale bar (=20 µm) applies to all panels.
Antibody Labeling Details
Phenotype Details
No data available
Acknowledgments:
ZFIN wishes to thank the journal Open Biology for permission to reproduce figures from this article. Please note that this material may be protected by copyright. Full text @ Open Biol.