ZFIN ID: ZDB-FIG-140908-8
EXPRESSION / LABELING:
Genes:
Fish:
Anatomical Terms:
Stage Range:

Day 5

to

Day 6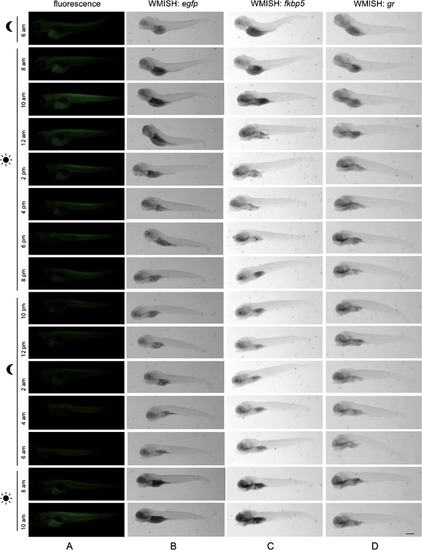 Fig. 8
(A) Fluorescence microscopy lateral view, (B) WMISH of egfp mRNA of 5-dpf transgenic larvae and (C) WMISH of fkpb5 mRNA, (D) WMISH of gr mRNA of 5-dpf WT larvae exposed to standard photoperiodic regime and analyzed from 2 h before light onset for 28 h. Scale bar: 200 µM.
Antibody Labeling Details
No data available
Phenotype Details
No data available
Acknowledgments:
ZFIN wishes to thank the journal Molecular and Cellular Endocrinology for permission to reproduce figures from this article. Please note that this material may be protected by copyright.

Reprinted from Molecular and Cellular Endocrinology, 392(1-2), Benato, F., Colletti, E., Skobo, T., Moro, E., Colombo, L., Argenton, F., Dalla Valle, L., A living biosensor model to dynamically trace glucocorticoid transcriptional activity during development and adult life in zebrafish, 60-72, Copyright (2014) with permission from Elsevier. Full text @ Mol. Cell. Endocrinol.