ZFIN ID: ZDB-FIG-140117-27
Your Input Welcome
Thank you for submitting comments. Your input has been emailed to ZFIN curators who may contact you if additional information is required.
Oops. Something went wrong. Please try again later.
Moore et al., 2013
- Par3 controls neural crest migration by promoting microtubule catastrophe during contact inhibition of locomotion. Development (Cambridge, England) 140(23):4763-4775
Full text @ Development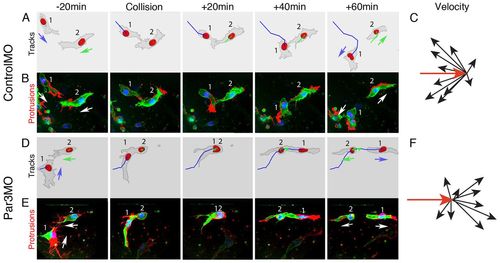 Fig. 5
Par3 is required for CIL in vivo in zebrafish. Single frames from time-lapse movies illustrating a collision between two cranial NC cells (1 and 2) in a zebrafish embryo injected with ControlMO (A,B) or Par3MO (D,E). Images are overlapped with tracks of migratory paths (A,D) or the difference in protrusion between current and previous frames (B,E). Red area indicates new protrusions. (C,F) Velocity vectors of colliding NC cells in ControlMO-injected (C) or Par3MO-injected (F) embryos. Cell position was recorded at 5-minute intervals. Velocity change was clustered in ControlMO-injected cells (n=10; P<0.05), but no difference in the velocity change was observed in Par3MO-injected cells (n=9; P>0.1). Red arrow indicates the initial velocity vector.
Antibody Labeling Details
No data available
Acknowledgments:
ZFIN wishes to thank the journal Development (Cambridge, England) for permission to reproduce figures from this article. Please note that this material may be protected by copyright. Full text @ Development