ZFIN ID: ZDB-FIG-131015-36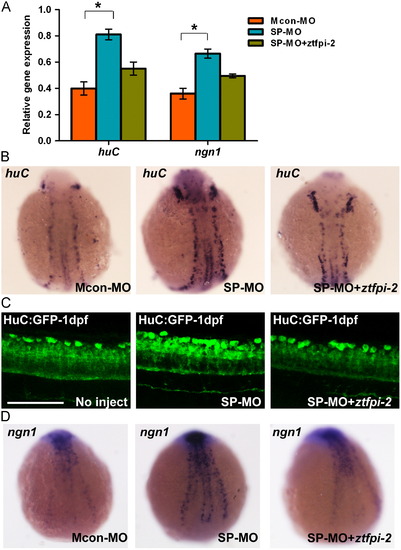 Fig. 7 ztfpi-2 morphants exhibited upregulation of huC and ngn1. (A) qPCR analysis showed huC and ngn1 levels have been increased in embryos injected with SP-MO at 25 hpf. *P<0.05. (B) WISH showed, at the 3-somite stage, injected embryos had a higher density of neurons in the neural plate than controls. (C) There were more HuC-positive cells in the SP-MO injected HuC-GFP embryos. A z-stack of fluorescence images was acquired by confocal microscopy at 25 hpf. Scale bar: 100 μm. (D) Dorsal views of Mcon-MO and SP-MO injected embryos showing ngn1 expression at 3 somites stage. The changes could be restored by co-injection of SP-MO with ztfpi-2 mRNA.
Antibody Labeling Details
No data available
Phenotype Details
No data available
Acknowledgments:
This image is the copyrighted work of the attributed author or publisher, and ZFIN has permission only to display this image to its users. Additional permissions should be obtained from the applicable author or publisher of the image.

Reprinted from Developmental Biology, 381(1), Zhang, Y., Wang, L., Zhou, W., Wang, H., Zhang, J., Deng, S., Li, W., Li, H., Mao, Z., and Ma, D., Tissue factor pathway inhibitor-2: A novel gene involved in zebrafish central nervous system development, 38-49, Copyright (2013) with permission from Elsevier. Full text @ Dev. Biol.