ZFIN ID: ZDB-FIG-130808-12
Hayes et al., 2013
- Expression of glycosaminoglycan epitopes during zebrafish skeletogenesis. Developmental dynamics : an official publication of the American Association of Anatomists 242(6):778-89
Full text @ Dev. Dyn.
EXPRESSION / LABELING:
| | |
| --- | --- |
| Antibodies: | |
| Fish: | |
| Anatomical Terms: | |
| Stage: | Days 7-13 |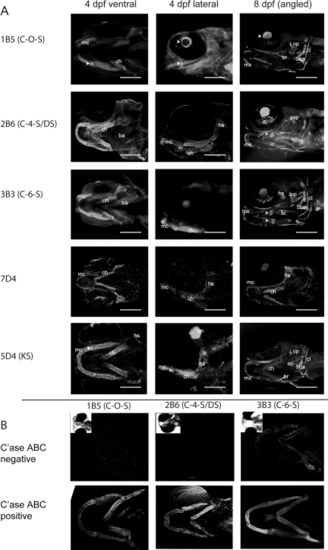 Fig. 3
Chondroitin and keratan sulfate expression in the developing jaw. Confocal reconstructions showing comparative regions of the developing jaw of 8-day zebrafish larvae labelled with antibodies towards distinct chondroitin and keratan sulfate epitopes (refer to Table 2 for antibody specificities). In all images larvae are presented with anterior facing to the left. Arrowheads point to ossifying regions of the ceratohyal. ch, ceratohyal; mx, maxilla; mc, Meckel′s cartilage; pq, palatoquadrate.
Gene Expression Details
No data available
Antibody Labeling Details
Phenotype Details
No data available
Acknowledgments:
ZFIN wishes to thank the journal Developmental dynamics : an official publication of the American Association of Anatomists for permission to reproduce figures from this article. Please note that this material may be protected by copyright. Full text @ Dev. Dyn.