ZFIN ID: ZDB-FIG-130802-8
Your Input Welcome
Thank you for submitting comments. Your input has been emailed to ZFIN curators who may contact you if additional information is required.
Oops. Something went wrong. Please try again later.
Le et al., 2013
- A novel chemical screening strategy in zebrafish identifies common pathways in embryogenesis and rhabdomyosarcoma development. Development (Cambridge, England) 140(11):2354-64
Full text @ Development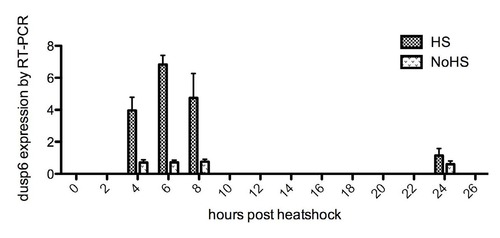 Fig. S4
Quantitative RT-PCR analysis of dusp6 activation levels in Tg(hsp70-HRASG12V) at various time points after 1 hour of heat shock. Transgenic embryos were kept at 28.5°C until 22 hpf. Some received 37°C heat shock for 1 hour; some were kept as controls. At 4, 6, 8 and 24 hours post-heat shock, the embryos were harvested for RNA extraction and RT-PCR analysis. Transgenic embryos kept at 28.5°C without heat shock were used as controls.
Antibody Labeling Details
No data available
Phenotype Details
No data available
Acknowledgments:
ZFIN wishes to thank the journal Development (Cambridge, England) for permission to reproduce figures from this article. Please note that this material may be protected by copyright. Full text @ Development