ZFIN ID: ZDB-FIG-130724-6
Clément et al., 2012
- Functional redundancy between Cdc14 phosphatases in zebrafish ciliogenesis. Developmental dynamics : an official publication of the American Association of Anatomists 241(12):1911-1921
Full text @ Dev. Dyn.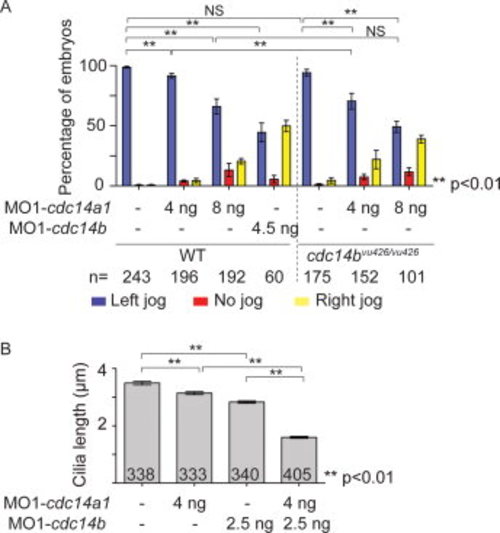 Fig. 5
Effect of Cdc14 double loss of function. A: Quantification of heart tube shifting in wild-type (WT) and homozygous cdc14bvu426/426 mutant embryos non-injected or injected with 4 ng MO1-cdc14a1, 8 ng MO1-cdc14a1, or 4.5 ng MO1-cdc14b, at 31 hpf. B: Cilia length was measured at 14 hpf. The numbers of embryos (A) and cilia (B) analyzed are indicated. Data are represented as mean ± SEM. Statistics were done using Student′s t-Test and are only presented for the left-sided heart tube class in A.
Gene Expression Details
No data available
Antibody Labeling Details
No data available
Acknowledgments:
ZFIN wishes to thank the journal Developmental dynamics : an official publication of the American Association of Anatomists for permission to reproduce figures from this article. Please note that this material may be protected by copyright. Full text @ Dev. Dyn.