ZFIN ID: ZDB-FIG-120315-57
EXPRESSION / LABELING:
Gene:
Antibody:
Fish:
Knockdown Reagent:
Anatomical Terms:
Stage Range:

Long-pec

to

Day 4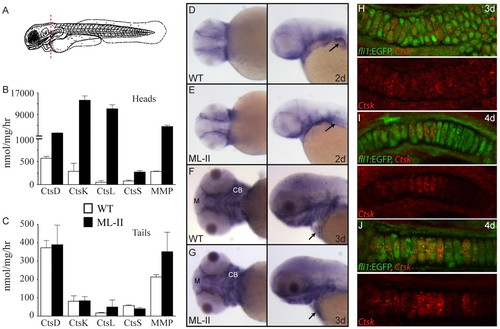 Fig. 5
Cathepsin expression is enriched in the craniofacial skeleton of zebrafish embryos. (A–C) Analysis of enzyme activities in lysates of 3-dpf WT and ML-II embryos separated into heads and tails, as diagrammed in A (dashed line represents cut site) demonstrates that cathepsin activities are primarily increased in the head in ML-II embryos compared with WT (B) rather than in the tail (C); n=3. (D–G) In situ hybridization for cathepsin K expression shows mRNA enrichment in ventral tissues that generally correspond to the pharyngeal skeleton at 2 dpf (D,E) and 3 dpf (F,G) in WT and ML-II embryos. Arrows denote differences in the pattern of expression between WT and ML-II embryos. CB, ceratobranchials; M, Meckels cartilage. (H–J) Immunohistochemical stains for cathepsin K (red) on sections of 3 dpf (H) and 4 dpf (I,J) WT fli1a:EGFP embryos show that it is expressed in chondrocytes and peri-chondrial fibroblasts of the trabecular (H,J) and Meckels cartilages (I).
Antibody Labeling Details
No data available
Phenotype Details
No data available
Acknowledgments:
ZFIN wishes to thank the journal Disease models & mechanisms for permission to reproduce figures from this article. Please note that this material may be protected by copyright. Full text @ Dis. Model. Mech.