ZFIN ID: ZDB-FIG-110621-17
EXPRESSION / LABELING:
| | |
| --- | --- |
| Genes: | |
| Antibodies: | |
| Fish: | |
| Knockdown Reagents: | |
| Anatomical Term: | |
| Stage: | Prim-5 |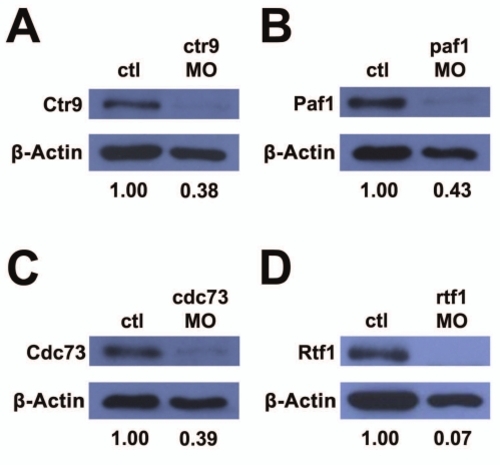 Fig. s3
Morpholinos targeting PAF1C component genes reduce target protein levels. (A–D) Western blots detecting PAF1C component proteins and β-actin protein levels in uninjected control and morpholino injected embryo lysates. (A) Ctr9 protein is reduced to 38% of control levels in ctr9MO injected embryos. (B) Paf1 protein is reduced to 43% of control levels in paf1MO injected embryos. (C) Cdc73 protein is reduced to 39% of control levels in cdc73MO injected embryos. (D) Rtf1 protein is reduced to 7% of control levels in rtf1MO injected embryos.
Antibody Labeling Details
No data available
Phenotype Details
No data available
Acknowledgments:
ZFIN wishes to thank the journal Developmental Biology for permission to reproduce figures from this article. Please note that this material may be protected by copyright.

Reprinted from Developmental Biology, 353(1), Langenbacher, A.D., Nguyen, C.T., Cavanaugh, A.M., Huang, J., Lu, F., and Chen, J.N., The PAF1 complex differentially regulates cardiomyocyte specification, 19-28, Copyright (2011) with permission from Elsevier. Full text @ Dev. Biol.