ZFIN ID: ZDB-FIG-110408-5
EXPRESSION / LABELING:
| | |
| --- | --- |
| Genes: | |
| Fish: | |
| Anatomical Terms: | |
| Stage: | Prim-25 |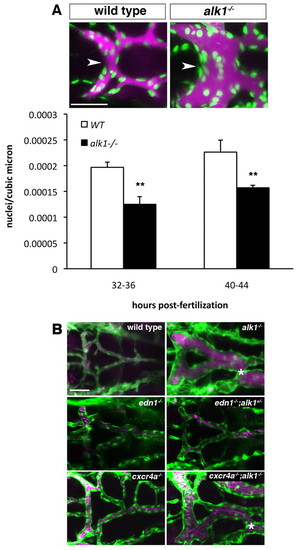 Fig. 5
Vasodilation contributes to increased vessel caliber in alk1 mutants. (A) Qtracker 655 non-targeted quantum dots were injected into the common cardinal vein of wild-type and alk1 mutant Tg(fli1a:nEGFP)y7 embryos. Images are two-dimensional confocal projections, dorsal views, anterior leftwards. Embryos aged 32-36 hpf are shown. Endothelial cell nuclei are green; quantum dots are magenta. Scale bar: 50 μm. Endothelial cell density in the BCA (white arrowhead) was calculated from these micrographs by dividing the number of nuclei by the vessel volume. Data represent mean±s.e.m. (n=5-7 independent samples) and were analyzed using Student′s t-test, **P<0.001. (B) Analysis of the contribution of edn1 loss and cxcr4a upregulation to AVM development. AVM development in alk1-/- embryos (asterisk) is not phenocopied by edn1-/- embryos even in the presence of heterozygous levels of alk1 (edn1-/-;alk+/-). cxcr4a-/- embryos do not exhibit AVMs, whereas cxcr4a-/-;alk1+/- embryos invariably develop AVMs, demonstrating that cxcr4a upregulation is not necessary for AVM development in alk1 mutants. Two-dimensional confocal projections of Tg(fli1a:EGFP)y1;Tg(gata1:dsRed)sd2 or Tg(kdrl:GFP)la116;Tg(gata1:dsRed)sd2 embryos. Endothelial cells are green; erythrocytes are magenta. Dorsal views, anterior leftwards. Scale bar: 50 μm.
Antibody Labeling Details
No data available
Acknowledgments:
This image is the copyrighted work of the attributed author or publisher, and ZFIN has permission only to display this image to its users. Additional permissions should be obtained from the applicable author or publisher of the image. Full text @ Development