ZFIN ID: ZDB-FIG-100525-10
EXPRESSION / LABELING:
Gene:
Fish:
Knockdown Reagents:
Anatomical Term:
Stage Range:

Prim-15

to

Long-pec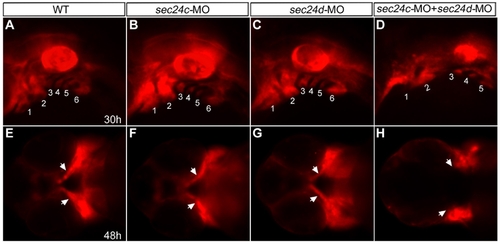 Fig. 9 Migration of craniofacial primordia in double Sec24C and Sec24D morants.
(A–H) Images of transgenic sox10:mRFP embryos at 30 hpf (lateral view A–D) and 48 hpf (ventral view E–H) after injection with sec24c-UTR-MO, (2.0 ng), sec24d-UTR-MO (3.5 ng), and sec24c-UTR-MO+ sec24d-UTR-MO. Neural crest streams are numbered (1, 2, 3, 4, 5, 6 in A–D). Arrows point to migrating craniofacial primordia (E–H).
Antibody Labeling Details
No data available
Acknowledgments:
This image is the copyrighted work of the attributed author or publisher, and ZFIN has permission only to display this image to its users. Additional permissions should be obtained from the applicable author or publisher of the image. Full text @ PLoS One