ZFIN ID: ZDB-FIG-090915-24
Your Input Welcome
Thank you for submitting comments. Your input has been emailed to ZFIN curators who may contact you if additional information is required.
Oops. Something went wrong. Please try again later.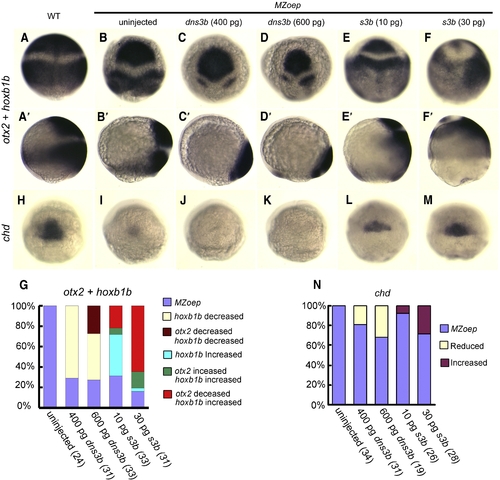 Fig. 7 Smad2/3 can exert their effects on neural development in the absence of the organizer. (A, A′ and H) Uninjected wildtype (WT) embryos. (B–F, B′–F′, and I–M) MZoep mutant embryos were injected at the one-cell stage with different doses of dnsmad3b or smad3b mRNA as indicated. Embryos were examined for otx2 and hoxb1b expression at the 90% epiboly stage (A–F and A′–F′) or chd expression at the shield stage (H–M). (A–F and H–M) Dorsal views with animal pole to the top. (A′–F′) Lateral views with dorsal to the right. (G, N) Statistical data for expression of otx2 and hoxb1b (G) or chd (N).
Antibody Labeling Details
No data available
Phenotype Details
No data available
Acknowledgments:
ZFIN wishes to thank the journal Developmental Biology for permission to reproduce figures from this article. Please note that this material may be protected by copyright.

Reprinted from Developmental Biology, 333(2), Jia, S., Wu, D., Xing, C., and Meng, A., Smad2/3 activities are required for induction and patterning of the neuroectoderm in zebrafish, 273-284, Copyright (2009) with permission from Elsevier. Full text @ Dev. Biol.