ZFIN ID: ZDB-FIG-090817-41
Huang et al., 2009
- Collagen IX is Required for the Integrity of Collagen II Fibrils and the Regulation of Vascular Plexus Formation in Zebrafish Caudal Fins. Developmental Biology 332(2):360-370
Full text @ Dev. Biol.
EXPRESSION / LABELING:
| | |
| --- | --- |
| Gene: | |
| Antibody: | |
| Fish: | |
| Anatomical Terms: | |
| Stage: | Days 14-20 |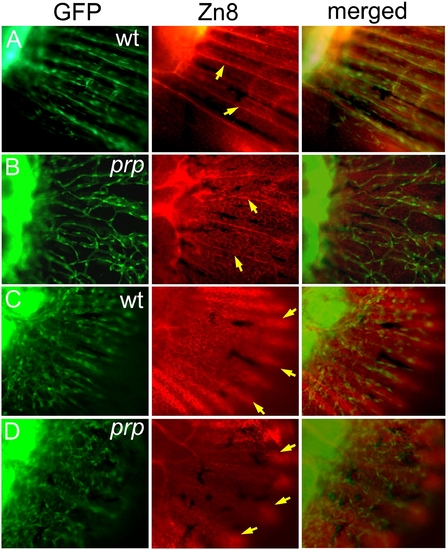 Fig. 8 Independent developmental relationship between blood vessels, sensory axons, and the epidermis in a zebrafish caudal fin. (A) A wild-type (WT) fin stained with the Zn8 monoclonal antibody showing the sensory neuronal pattern in the fin. A single axon was found to extend along each fin ray (arrows). (B) In the prp mutant, the sensory axons maintained their ray pattern (arrows) and did not seem to be associated with the vascular plexus pattern. (C) A WT young fin stained with Zn8 and photographed with the focus on the epidermis showing that the epidermis formed a nice fin ray pattern (arrows). (D) A prp young fin showing that the epidermal pattern appeared relatively normal (arrows).
Antibody Labeling Details
Acknowledgments:
ZFIN wishes to thank the journal Developmental Biology for permission to reproduce figures from this article. Please note that this material may be protected by copyright.

Reprinted from Developmental Biology, 332(2), Huang, C.C., Wang, T.C., Lin, B.H., Wang, Y.W., Johnson, S.L., and Yu, J., Collagen IX is Required for the Integrity of Collagen II Fibrils and the Regulation of Vascular Plexus Formation in Zebrafish Caudal Fins, 360-370, Copyright (2009) with permission from Elsevier. Full text @ Dev. Biol.