ZFIN ID: ZDB-FIG-090817-40
Huang et al., 2009
- Collagen IX is Required for the Integrity of Collagen II Fibrils and the Regulation of Vascular Plexus Formation in Zebrafish Caudal Fins. Developmental Biology 332(2):360-370
Full text @ Dev. Biol.
EXPRESSION / LABELING:
| | |
| --- | --- |
| Gene: | |
| Antibody: | |
| Fish: | |
| Anatomical Terms: | |
| Stage: | Days 14-20 |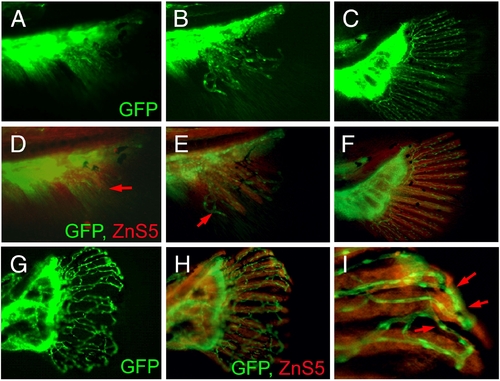 Fig. 7 Vascular plexus causes wavy and fused fin rays in prp fish. (A–C) Blood vessel development in the caudal fin of wild-type (WT) fish. (D–F) Immunostaining of osteoblasts (red) with the ZnS5 monoclonal antibody of the same fins revealed that osteoblasts developed and were patterned after blood vessels as evidenced by areas where only blood vessels were present (arrows in panels D and E). (G) A prp fin showing the vascular plexus. (H) The same prp fin stained with ZnS5 (red) showing that the osteoblast pattern was closely associated with the blood vessel pattern. (I) High magnification of a representative area of (H) showing wavy and fused osteoblast rays along with the misconnected blood vessels (arrows).
Antibody Labeling Details
Acknowledgments:
ZFIN wishes to thank the journal Developmental Biology for permission to reproduce figures from this article. Please note that this material may be protected by copyright.

Reprinted from Developmental Biology, 332(2), Huang, C.C., Wang, T.C., Lin, B.H., Wang, Y.W., Johnson, S.L., and Yu, J., Collagen IX is Required for the Integrity of Collagen II Fibrils and the Regulation of Vascular Plexus Formation in Zebrafish Caudal Fins, 360-370, Copyright (2009) with permission from Elsevier. Full text @ Dev. Biol.