ZFIN ID: ZDB-FIG-080701-15
Your Input Welcome
Thank you for submitting comments. Your input has been emailed to ZFIN curators who may contact you if additional information is required.
Oops. Something went wrong. Please try again later.
EXPRESSION / LABELING:
| | |
| --- | --- |
| Gene: | |
| Antibodies: | |
| Fish: | |
| Anatomical Terms: | |
| Stage: | Bud |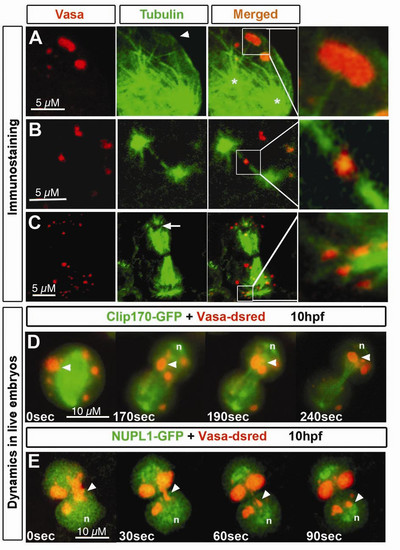 Fig. 5 Microtubules localization relative to germ cell granules during different stages of germ cell mitosis. Immunostaining of germ cells undergoing cell division. Granules are labeled with anti-Vasa antibody and microtubules with anti-α-Tubulin antibody. A) During beginning of mitosis, α-Tubulin- expressing granules (arrowhead) appear connected to microtubular fibers (detail) projecting from what appear as centrosomes (asterisks). B) At a later stage of mitosis, when the two presumed centrosomes are located at the poles of the cell, projecting spindle microtubules reach at Vasa and α-Tubulin expressing granules (detail). C) When mitosis is close to termination, granules are enriched around the area where the nucleus reassembles (arrows). Specific colocalization of granules with astral microtubules is shown in detail. D) Germ cell granules (arrowhead) move towards the forming nucleus (n) through a path of spindle microtubules. E) Granules move to the area where the nucleus forms. Nuclear envelope reassembly was visualized by NUPL1. Elongated granules (arrowhead) move from the cytokinetic region to the site of the forming nucleus (n) and re-adopt a spherical shape upon arrival All experiments were performed on 10 hpf embryos.
Antibody Labeling Details
Phenotype Details
No data available
Acknowledgments:
ZFIN wishes to thank the journal BMC Developmental Biology for permission to reproduce figures from this article. Please note that this material may be protected by copyright. Full text @ BMC Dev. Biol.