ZFIN ID: ZDB-FIG-080701-13
EXPRESSION / LABELING:
| | |
| --- | --- |
| Gene: | |
| Antibodies: | |
| Fish: | |
| Anatomical Terms: | |
| Stage: | Shield |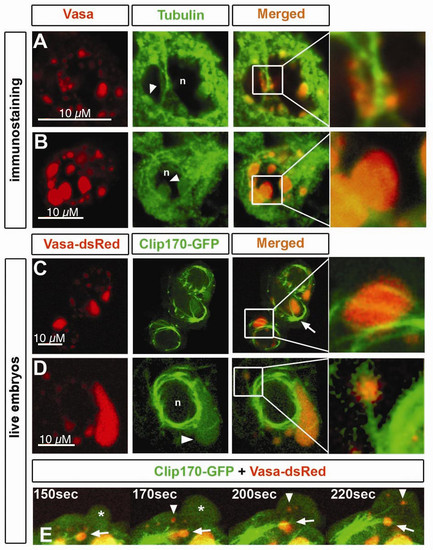 Fig. 3 Microtubules colocalize with germ cell granules. A) Immunostaining of Vasa protein and α-Tubulin in germ cells of 6 hpf embryos. Perinuclear granules attached to microtubules are shown in detail. n and arrowhead depicts the nucleus and granules expressing Tubulin, respectively. B) At 16 hpf, germ cell perinuclear granules show expression of α-Tubulin within their structure (arrowhead). Nucleus is depicted by n. Pinhole value is 1.22. C).Germ cells in live 11 hpf embryos have a microtubular cage surrounding the nuclei, where microtubules originated from the MTOC (arrow) span the granules (detail). Microtubules were labeled with Clip170- GFP, and granules with Vasa-dsRed. D) Cytoplasmic granules colocalize with microtubular fibers projecting from the nuclear cage (detail). Tubulin expression is also found within the granule (arrowhead) of 11 hpf embryos. Nucleus is depicted by n. E) A close-up view of a germ cell of a 11 hpf embryos reveals flow of cytoplasmic granules not associated with microtubules (arrowhead) into the protrusion (asterisk) while others remain stable in colocalization with microtubules projected from the MTOC (arrow).
Antibody Labeling Details
Phenotype Details
No data available
Acknowledgments:
ZFIN wishes to thank the journal BMC Developmental Biology for permission to reproduce figures from this article. Please note that this material may be protected by copyright. Full text @ BMC Dev. Biol.