ZFIN ID: ZDB-FIG-060823-10
EXPRESSION / LABELING:
| | |
| --- | --- |
| Genes: | |
| Fish: | |
| Anatomical Terms: | |
| Stage: | Adult |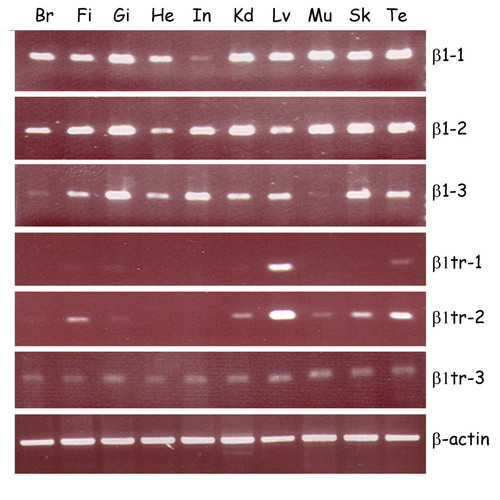 Fig. 8 Expression profiling of zebrafish β1 paralogs in adult tissues. Expression of the different paralogs was analyzed by semiquantitative RT-PCR using primers designed against a portion of extracellular domains of the different paralogs. The amplification of zebrafish β-actin was monitored as a positive control. Br, brain; Fi, fin; Gi, gill; He, heart; In, intestine; Kd, kidney; Lv, liver; Mu, muscle; Sk, skin; Te, testis.
Antibody Labeling Details
No data available
Phenotype Details
No data available
Acknowledgments:
ZFIN wishes to thank the journal BMC Cell Biology for permission to reproduce figures from this article. Please note that this material may be protected by copyright. Full text @ BMC Cell Biol.