ZFIN ID: ZDB-FIG-051004-1
Feng et al., 2005
- The recombination activation gene 1 (Rag1) is expressed in a subset of zebrafish olfactory neurons but is not essential for axon targeting or amino acid detection. BMC Neuroscience 6:46
Full text @ BMC Neurosci.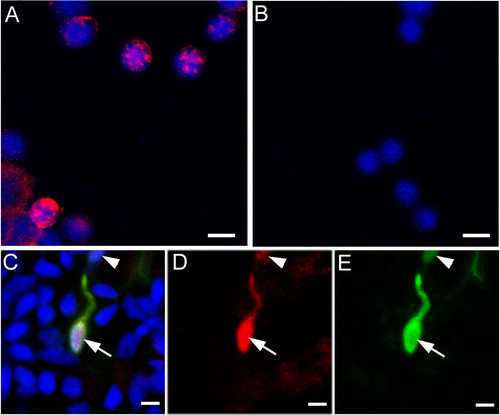 Fig. 1 Immunofluorescent labelling of RAG1. (A) Isolated zebrafish thymocytes, labelled with the antibody to RAG1 (in red) and DAPI (blue). (B) After pre-absorption with the peptide used for immunization, no labelling was detected. (C-E) Double-label of olfactory epithelial cells isolated from a Rag1:GFP transgenic fish. RAG1 protein (C, D; red) is present in the GFP-positive (C, E; green) neurons (arrow and arrowhead). Neurons with high (arrow) or low (arrowhead) GFP levels contain RAG1. DAPI (C; blue) is used to stain nuclei. Bar = 5 µm.
Antibody Labeling Details
No data available
Phenotype Details
No data available
Acknowledgments:
ZFIN wishes to thank the journal BMC Neuroscience for permission to reproduce figures from this article. Please note that this material may be protected by copyright. Full text @ BMC Neurosci.