ZFIN ID: ZDB-FIG-050609-7
EXPRESSION / LABELING:
| | |
| --- | --- |
| Gene: | |
| Fish: | |
| Knockdown Reagents: | |
| Anatomical Term: | |
| Stage: | Prim-5 |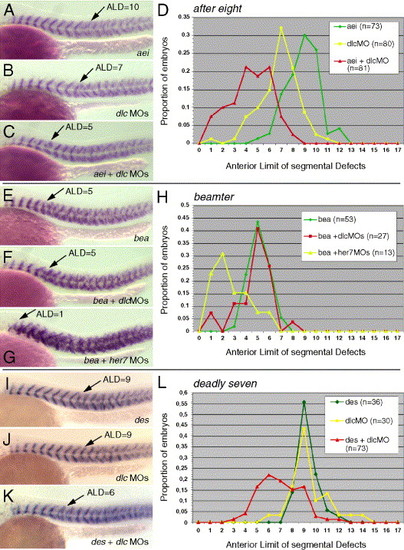 Fig. 5 Analysis of the interaction between deltaC and the after eight/deltaD (aei/dld), beamter (bea), and deadly seven/notch1a (des/n1a) mutations in the Delta/Notch signaling pathway. Myotome boundaries in the trunk are shown in 26 hpf embryos in lateral view with anterior to the left and dorsal upwards (A–C, E–G, I–K). (A) aei/dld uninjected, (B) wild type injected with 1 ng/nL dlcMO3 and 1 ng/nL dlcMO4, (C) aei/dld injected with dlcMOs. (E) bea uninjected, (F) bea injected with 1 ng/nL dlcMO3 and 2 ng/nL dlcMO4, (G) bea injected with 3 ng/nL her7MO1 and 3 ng/nL her7MO2. (I) des/n1a uninjected, (J) wild type injected with 0.5 ng/nL dlcMO3 and 0.5 ng/nL dlcMO4. (D, H, L) Histograms comparing Anterior Limit of Defects (ALD) for these nine conditions. Arrows in panel (A–C), (E–G), and (I–K) indicate ALD in each embryo.
Antibody Labeling Details
No data available
Phenotype Details
No data available
Acknowledgments:
ZFIN wishes to thank the journal Developmental Biology for permission to reproduce figures from this article. Please note that this material may be protected by copyright.

Reprinted from Developmental Biology, 280(1), Oates, A.C., Mueller, C., and Ho, R.K., Cooperative function of deltaC and her7 in anterior segment formation, 133-149, Copyright (2005) with permission from Elsevier. Full text @ Dev. Biol.