ZFIN ID: ZDB-FIG-050608-3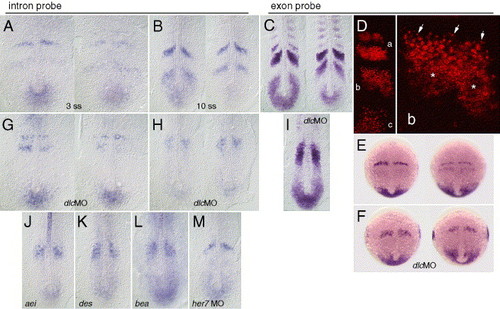 Fig. 4 Transcriptional activity of the deltaC gene in wild type and segmentation defective mutant backgrounds. Distribution of total dlc mRNA, detected with a cDNA-derived riboprobe, is shown in panels (C–F) and (I). Distribution of unspliced dlc pre-mRNA, detected with a riboprobe to the fourth intron, is shown in panels (A), (B), (G), (H), and (J–M). Dorsal view in flat mounted embryos in wild type (A–E), morpholino injected (F–I.M), and mutant (J, aei/dld; K des/n1a,; L, bea) backgrounds. Embryos are shown at bud (E, F), 3 (A, G), 7 (D), and 10 somite (B, C, H, I, J–M) stages of development. Panels (F–I) show the effect of injection of 1 ng/nL dlcMO3 and 2 ng/nL dlcMO4, and panel (M) shows the effect of 2 ng/nL her7MO1 and her7MO2. The total distribution of dlc mRNA in a representative embryo, as detected with the exonic riboprobe by confocal LSM, is shown in panel D, with (a) anterior, (b) mid-, and (c) posterior wavelike expression domains, (b) and is magnified in right panel showing puncta (arrows) on the rostral side, and diffuse staining (asterisks) in the caudal part of the expression domain.
Antibody Labeling Details
No data available
Phenotype Details
No data available
Acknowledgments:
ZFIN wishes to thank the journal Developmental Biology for permission to reproduce figures from this article. Please note that this material may be protected by copyright.

Reprinted from Developmental Biology, 280(1), Oates, A.C., Mueller, C., and Ho, R.K., Cooperative function of deltaC and her7 in anterior segment formation, 133-149, Copyright (2005) with permission from Elsevier. Full text @ Dev. Biol.