ZFIN ID: ZDB-FIG-210316-43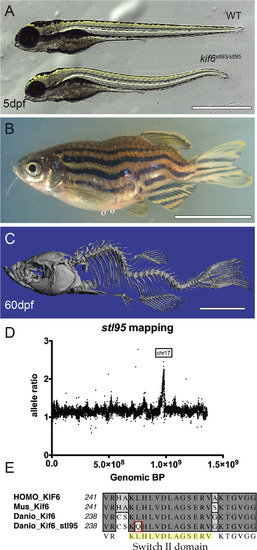 Fig. 5 The kif6stl95 mutant displays early notochord bending and larval onset scoliosis with rotation, without obvious vertebral malformations. Bright field of representative sibling WT and mutant kif6stl95/stl95 phenotypes at 5 dpf (A) and mutant adult at 60 dpf (B). μCT imaging of a kif6stl95/stl95 mutant at 60 dpf (C). Region of homozygosity-based mapping graphed as mutant allele ratio over the total genomic distance shows a peak of homozygosity at Chromosome 17 (D). Multi-species alignment of the switch II domain of Kif6 proteins illustrating the amino acid change in the kif6stl95/stl95 mutant to Glutamine from a well-conserved Leucine residue (E). Scale bars (A), 1 ​mm and (B, C), 1 ​cm.
Gene Expression Details
No data available
Antibody Labeling Details
No data available
Acknowledgments:
ZFIN wishes to thank the journal Developmental Biology for permission to reproduce figures from this article. Please note that this material may be protected by copyright.

Reprinted from Developmental Biology, 471, Gray, R.S., Gonzalez, R., Ackerman, S.D., Minowa, R., Griest, J.F., Bayrak, M.N., Troutwine, B., Canter, S., Monk, K.R., Sepich, D.S., Solnica-Krezel, L., Postembryonic screen for mutations affecting spine development in zebrafish, 18-33, Copyright (2020) with permission from Elsevier. Full text @ Dev. Biol.