ZFIN ID: ZDB-FIG-210316-49
PHENOTYPE:
| | |
| --- | --- |
| Fish: | |
| Observed In: | |
| Stage: | Adult |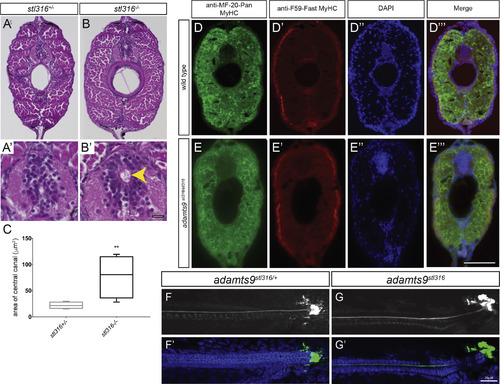 Fig. 11 Assessment of adult adamts9stl316/stl316 mutants reveals a consistent expansion of the central canal, without alteration of musculature (A-B′) Bright field of H&E stained transverse sections from heterozygous (A, A′) and adamts9stl316/stl316 mutants (B, B′) at 90 dpf. (C) Graph of central canal area as box plot with SD and mean demonstrating a significant (p ​> ​0.01) increase in the central canal area in homozygous adamts9stl316 mutants (yellow arrow) compared to heterozygous carriers. Fluorescent immunohistochemistry of transverse sections from WT (D-D‴) and adamts9stl316/stl316 mutant (E-E‴) demonstrating no obvious changes in musculature in Pan-Myosin Heavy Chain expression (D, E) or in Fast twitch Myosin Heavy Chain expression (D′, E′) in the trunk musculature. Nuclei are counterstained by DAPI (D″, E″). Confocal images of AFRU stained Reissner fiber (F, G) and merged images with DAPI-stained nuclei (F′, G′) in adamts9stl316/+ heterozygous (F, F′) and adamts9stl316/stl316 mutants (G, G′) at 15 dpf, which shows no obvious defects in Reissner fiber assembly. Scale bars are 10 ​μM in A′, B′ and 20 ​μM in D-G'.
Gene Expression Details
No data available
Antibody Labeling Details
No data available
Acknowledgments:
ZFIN wishes to thank the journal Developmental Biology for permission to reproduce figures from this article. Please note that this material may be protected by copyright.

Reprinted from Developmental Biology, 471, Gray, R.S., Gonzalez, R., Ackerman, S.D., Minowa, R., Griest, J.F., Bayrak, M.N., Troutwine, B., Canter, S., Monk, K.R., Sepich, D.S., Solnica-Krezel, L., Postembryonic screen for mutations affecting spine development in zebrafish, 18-33, Copyright (2020) with permission from Elsevier. Full text @ Dev. Biol.