ZFIN ID: ZDB-FIG-170921-31
EXPRESSION / LABELING:
Genes:
Fish:
Knockdown Reagents:
Anatomical Terms:
Stage Range:

Prim-15

to

Day 5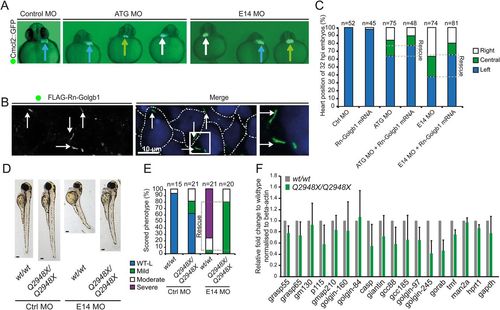 Fig. 5
Left-right asymmetry and phenotypic rescue of giantin MO. (A) Cardiomyocyte Cmcl2::GFP transgenic reporter line outlining the heart position (arrows, blue: left; green: midline; white: right) at 32 hpf. (B) Representative confocal image of 48 hpf with ATG morpholino and Rn-Golgb1 mRNA showing Golgi localisation of Rn-Golgb1 in dermal cells stained for anti-flag (white arrows). White dotted line indicates cell boundaries. N=3 individuals. (C) Quantification of heart position (32 hpf), additionally showing Rn-Golgb1 mRNA co-injection rescue. (D) Stereomicroscope images of 3 dpf control and E14 morpholinos injected with same dose in WT and golgb1Q2948X/Q2948X individuals derived from same day WTxWT and golgb1Q2948X/Q2948X x golgb1Q2948X/Q2948X in-crosses with (E) quantification of phenotypes scored. (F) Quantitative RT-PCR of golgins showing relative mRNA expression levels on 5 dpf larvae. Normalised to beta-actin, mean and standard deviation. All data from three independent experiments.
Antibody Labeling Details
No data available
Phenotype Details
| Fish | Conditions | Stage | Phenotype |
| --- | --- | --- | --- |
| WT + MO2-golgb1 | standard conditions | Protruding-mouth | eye decreased size, abnormal |
| | | Protruding-mouth | heart edematous, abnormal |
| | | Protruding-mouth | whole organism decreased length, abnormal |
| golgb1sa11389/sa11389 | control | Protruding-mouth | whole organism morphology, normal |
| golgb1sa11389/sa11389 + MO2-golgb1 | standard conditions | Protruding-mouth | eye size, ameliorated |
| | | Protruding-mouth | whole organism length, ameliorated |
| twu34Tg + MO1-golgb1 | standard conditions | Prim-15 | determination of heart left/right asymmetry decreased process quality, abnormal |
| | | Prim-15 | heart tube mislocalised, abnormal |
| twu34Tg + MO2-golgb1 | standard conditions | Prim-15 | determination of heart left/right asymmetry decreased process quality, abnormal |
| | | Prim-15 | heart tube mislocalised, abnormal |
Acknowledgments:
ZFIN wishes to thank the journal Biology Open for permission to reproduce figures from this article. Please note that this material may be protected by copyright. Full text @ Biol. Open