ZFIN ID: ZDB-FIG-160726-22
EXPRESSION / LABELING:
| | |
| --- | --- |
| Genes: | |
| Fish: | |
| Anatomical Terms: | |
| Stage: | Adult |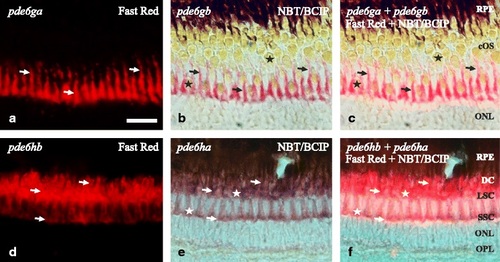 Fig. 6
Coexpression in AB zebrafish retina of the 3R generated PDE6 inhibitory subunit paralogs. Photomicrographs from double ISH experiments on adult zebrafish outer retinae show colocalisation for pde6ga and pde6gb in rods (a-c) and for pde6ha and pde6hb in cones (d-f), arrows are pointing at the same cell in the three corresponding pictures. a and d are fluorescent pictures from Fast Red staining and b and e are bright-field pictures from, mainly, NBT/BCIP staining in purple but also a minimal staining from the Fast Red. c and f combine bright-field and fluorescence to show co-staining in the same cells. a-c shows exclusive staining in the myoids of the rods. The sections were obtained in an oblique angle to facilitate the perception of the rods´ myoids "crawling" between the cones, despite giving an unreal perception of the stratification. d-f show staining in the three cone types: SSC, LSC and DC. However, the tight packing of the DC makes it difficult to visualise them with fluorescence (d, f). Stars mark the cone-specific ellipsoids. Scale bar is 25 µm. RPE; retinal pigment epithelium. For the rest of abbreviations see Fig. 5 legend
Antibody Labeling Details
No data available
Phenotype Details
No data available
Acknowledgments:
ZFIN wishes to thank the journal BMC Evolutionary Biology for permission to reproduce figures from this article. Please note that this material may be protected by copyright. Full text @ BMC Evol. Biol.