ZFIN ID: ZDB-FIG-141112-23
EXPRESSION / LABELING:
| | |
| --- | --- |
| Genes: | |
| Fish: | |
| Anatomical Terms: | |
| Stage: | Adult |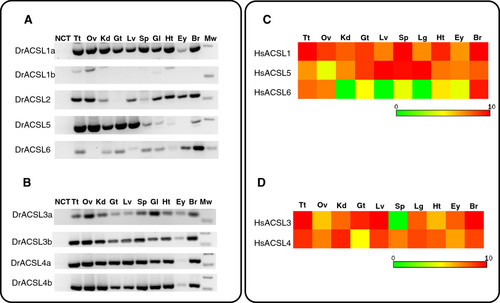 Fig. 6
Comparative expression analysis of Acsl genes in human and zebrafish tissues. (A and B) Tissue expression profile of zebrafish Acsl genes; (C and D) Tissue expression heatmap of Human Acsl genes; NCT negative template control, Tt: testis, Ov: ovary, Kd: kidney, Gt: gut, Lv: Liver, Sp: spleen, Gl: gill, Ht: heart, Ey: eye; Br: brain, Lg: lung, Mw: molecular weight marker.
Antibody Labeling Details
No data available
Phenotype Details
No data available
Acknowledgments:
ZFIN wishes to thank the journal BMC Developmental Biology for permission to reproduce figures from this article. Please note that this material may be protected by copyright. Full text @ BMC Dev. Biol.