ZFIN ID: ZDB-FIG-140411-17
EXPRESSION / LABELING:
| | |
| --- | --- |
| Gene: | |
| Fish: | |
| Knockdown Reagents: | |
| Anatomical Term: | |
| Stage: | Prim-5 |
PHENOTYPE:
| | |
| --- | --- |
| Fish: | |
| Knockdown Reagents: | |
| Observed In: | |
| Stage: | Prim-5 |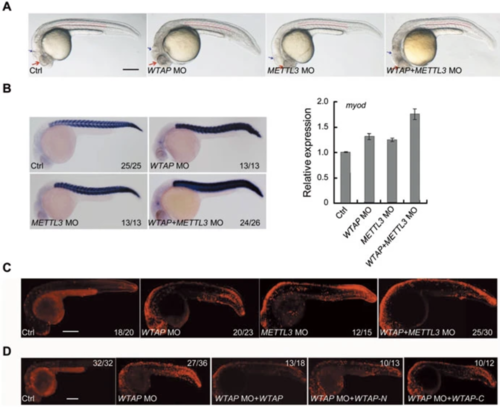 Fig. 4
The WMM complex plays essential roles during zebrafish embryogenesis. (A) Embryos injected with individual (WTAP-, METTL3-) or combined (METTL3+WTAP) MOs. The double knockdown showed more severe morphological defects, compared to other groups, at 24 hpf. Red arrows mark head and eyes, while blue arrows mark brain ventricle. The curve of the notochord is labeled by the double dashed lines. (B) Expression of somite marker myod in the morphants at 24 hpf. myod expression was increased in WTAP-, METTL3-, or double morphants. (C) Increased apoptosis (TUNEL assay) was observed in embryos injected with individual or combined MOs. (D) Overexpression of full-length or N-terminal but not C-terminal zebrafish WTAP mRNA prevented apoptosis in zebrafish WTAP-MO embryos. Note that there is auto-fluorescence on the yolk. Anterior to the left and dorsal is up. Scale bar, 250 μm. Supportive data were included in Supplementary information, Figures S5F and S6.
Antibody Labeling Details
No data available
Acknowledgments:
ZFIN wishes to thank the journal Cell Research for permission to reproduce figures from this article. Please note that this material may be protected by copyright. Full text @ Cell Res.