ZFIN ID: ZDB-FIG-140325-1
EXPRESSION / LABELING:
| | |
| --- | --- |
| Gene: | |
| Fish: | |
| Anatomical Term: | |
| Stage: | Day 5 |
PHENOTYPE:
| | |
| --- | --- |
| Fish: | |
| Observed In: | |
| Stage: | Day 5 |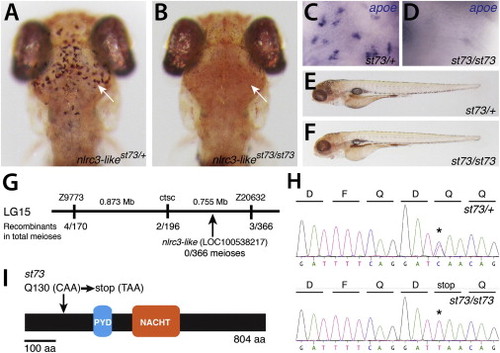 Fig. 1
Lack of Microglia in nlrc3-like Mutants
(A and B) Live 5 dpf zebrafish larvae were stained by neutral red to visualize microglia in the brain.
(A) Heterozygous st73/+ larva (arrow points to microglia around optic tectum) is shown.
(B) Homozygous st73 larvae have no microglia (arrow). Dorsal views; anterior is to the top.
(C and D) Microglial marker apoe expression at 5 dpf in the brain is shown.
(E and F) Neutral red-stained heterozygous (E) and homozygous mutant (F) shows normal whole-animal morphologies at 5 dpf. Lateral views; anterior is to the left.
(G) Genetic and physical map of the st73 locus.
(H) Sequence chromatogram shows the lesion (asterisks) in the coding sequence of nlrc3-like (LOC100538217).
(I) The st73 mutation introduces a premature stop codon near the 52 end of the open reading frame of nlrc3-like.
See also Figure S1.
Antibody Labeling Details
No data available
Acknowledgments:
ZFIN wishes to thank the journal Cell Reports for permission to reproduce figures from this article. Please note that this material may be protected by copyright. Full text @ Cell Rep.